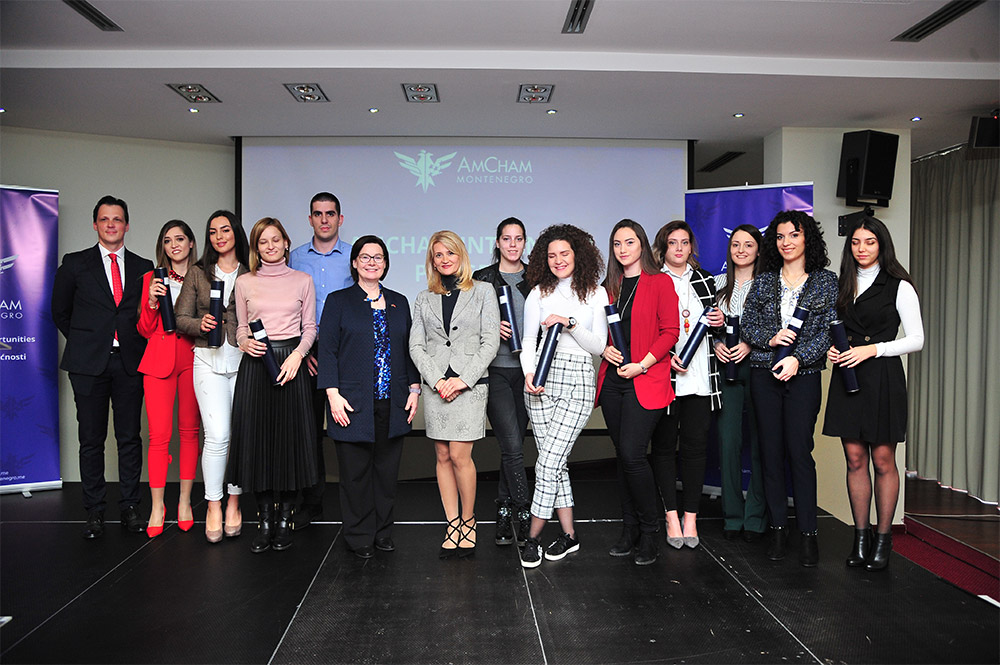 AmCham's 8th Internship Program Award Ceremony

H.E. Judy Rising Reinke, the U.S. Ambassador to Montenegro, along with AmCham's President Ms. Katarina Bulatović, awarded the 8th generation of Internship Program with Certificates of Completion, which took place on January 29, at the hotel "Podgorica".
The eight generation of the Program counts 18 participants. Since 2011, when the AmCham Internship program has started, about 200 students successfully completed the practice in the member companies of the Chamber and significant number of the participants continued their careers in mentoring companies, which is strong stimulus for future potential candidates.
AmCham's President, Ms. Katarina Bulatović, expressed appreciation for all member companies which have supported the Internship Program. She emphasized that education is key to changing the society, particularly in times of digital revolution, we live in. Competency development has never been so dynamic as it is today, and due to that fact, not only our interns, but all of us need to constantly work ongaining new skills and getting new experiences, President underlined.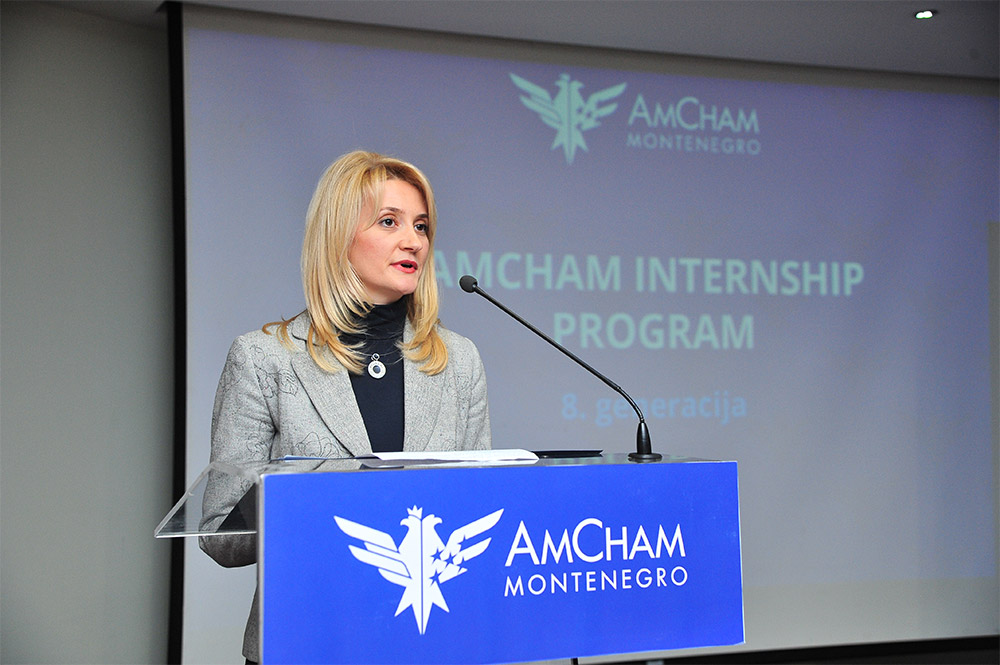 -The Internship program is a precious opportunity for you to get more familiar with the changing requirements of labour market, demanding methods of constant personal improvement and new knowledge you need to acquire. Also, this is a way to get valuable contacts and practice, which will be a good starting point for your further professional development, said AmCham's President, Ms. Bulatović.
H.E. Judy Rising Reinke, the U.S. Ambassador to Montenegro pointed out that community needs to help future business leaders to seize the opportunities and reach their full potential.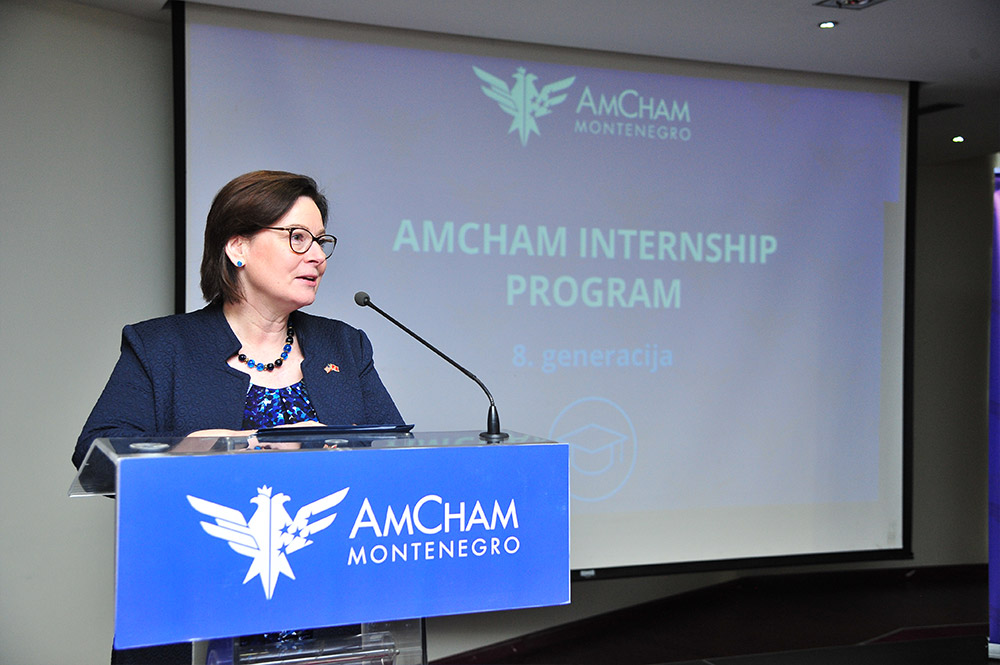 -AmCham's internship program does just that. Thanks to all of the sponsors gathered here, we are fostering new economic opportunities that are strengthening the ties between the United States and Montenegro, accented the U.S. Ambassador to Montenegro.
The companies which participated in the AIP 2018 are: Crnogorski Telekom, Trebjesa Beverage, Mediterranean University, Sava Insurance, Societe General Montenegro Bank, Čikom, SnT, Amplitudo, and Addiko Bank.AmCham Montenegro also provided one position for the internship and enabled the acquisition with AmCham's practice, as well as values of the Chamber.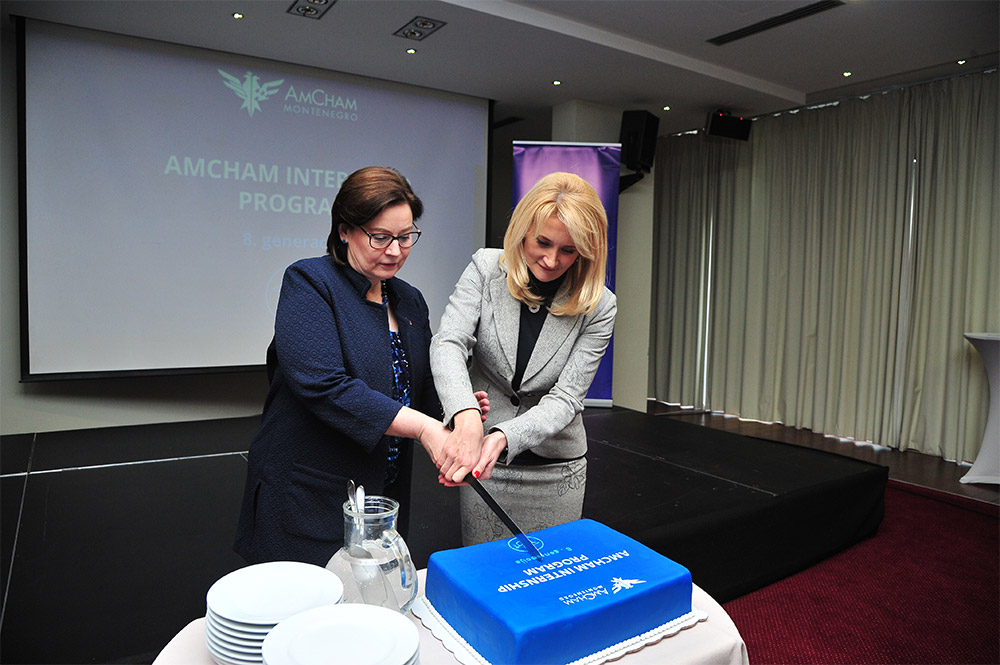 In Internship Program 2018 participated: Anđela Miličković, Anja Petrović, Desanka Kotlaja, Dražen Jovanović, Eva Medigović, Jelena Milikić, Maja Rolevski, Marija Milikić, Milica Bulatović, Milica Miletić, Milena Komnenović, Nina Stanić, Savica Vujičić, Vanja Pejović, Ivana Đurašković, Lejla Ćorović, Nađa Kljajević and Anđela Lučić.
The application process for the next generation of interns will be initiated in March 2019 and available on AmCham's website www.amcham.me.