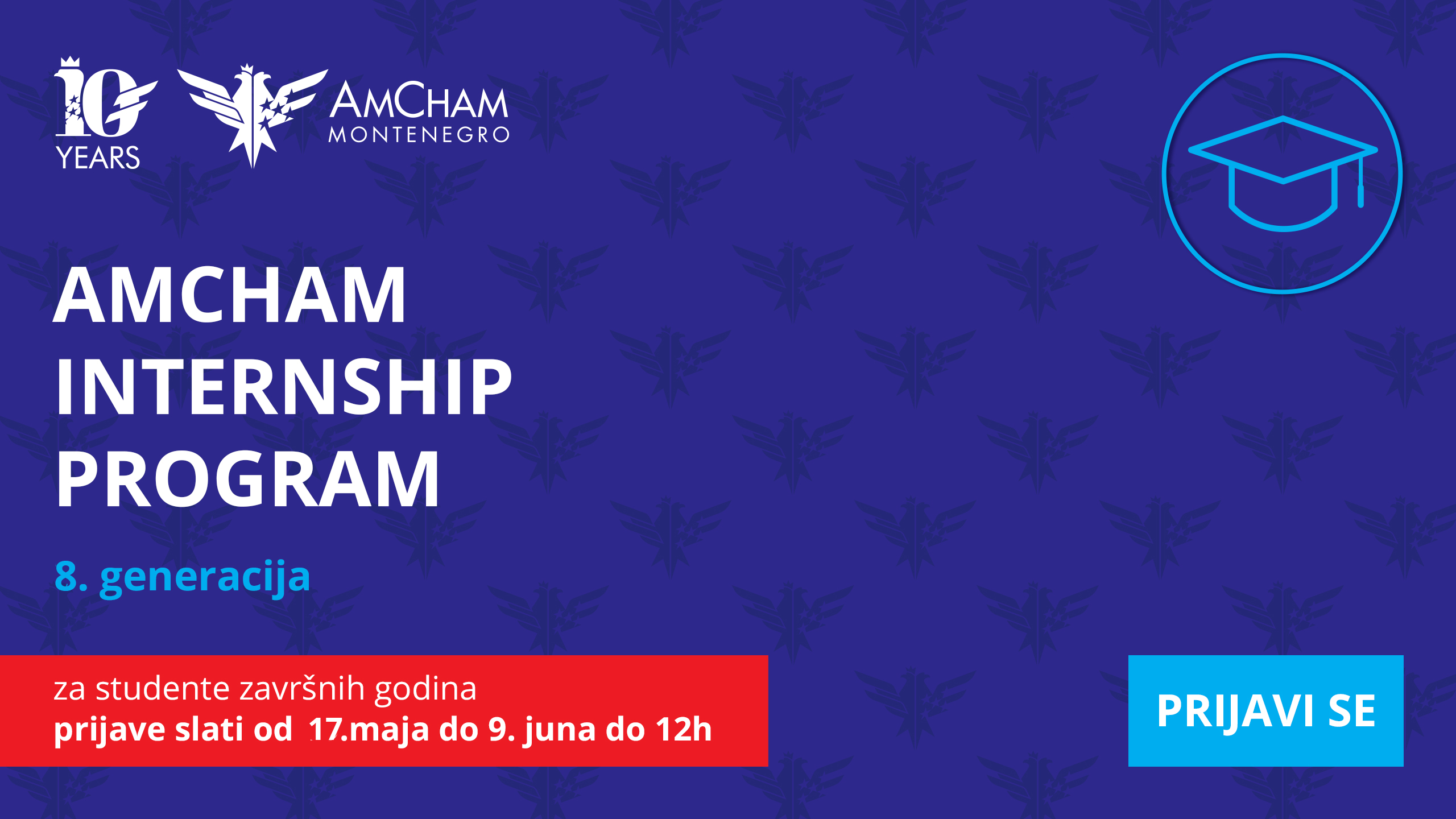 2018 AmCham Internship Program – Conditions for application and required documentation

AmCham Montenegro is pleased to announce the 8thyear of its AmCham Internship Program for students of final years of studies in Montenegro. The Program offers students the opportunity to take part in the 3-month internship in one of AmCham member companies. AmCham Montenegro cooperates with all major universities in Montenegro in realization of this Program, i.e.: University of Montenegro, Mediterranean University and the University of Donja Gorica.
This year, 18 member companies and AmCham office have opened a total of 48 internship positions. Additionally, we are pleased to announce that internship positions will be awarded to qualified students with disabilities.
The program will run from September 4 until December 4, 2018. Students from the following fields of study are encouraged to apply: Economics/Marketing, Law, Engineering (electrical engineering, IT, telecommunications and automatics), Information Technology, English Language, Visual Arts and Tourism.
Member companies participating in 2018 Internship Program are: Crnogorski Telekom, Societe Generale Montenegro Bank, Teknoxgroup, Pivara Trebjesa, MFI Monte Cedit, Lovćen Bank, Uniqa osiguranje, Čikom, Investicioni fond Trend, SnT, Amplitudo, 7. Avgust, Sava osiguranje, The Chedi Luštica Bay, Luštica Development, Addiko bank, Blue Coach, Hoffman la Roche and Mediterranean University.
AmCham Montenegro will provide one internship position.
The minimum criteria that candidates must meet are the following:
Only final year students may apply for the Internship Program;
Excellent knowledge of English language (written and oral);
Strong knowledge of office applications and other relevant computer applications for business;
Other skills and competencies as well as self-motivation, creativity, and entrepreneurial spirit will also be taken into consideration during the vetting process.
Additional but not obligatory criteria is to have grade point average of 8.0 on a scale of 10 achieved for all previous years of study;
It is necessary for each candidate to submit the following documentation in order to apply for the Internship Program:
An updated CV in English, which includes contact information (i.e. name and surname, email address and mobile phone number)
Certificate issued by the faculty verifying that the student is currently enrolled;
Certificate issued with an overview of all examinations passed and with an average score achieved in previous years of study;
Cover letter of no more than 2000 characters, in English which would explain the reasons and motives for application, expectations and wishes regarding any specific area of special interest in the Program.
The application period will open on May 17. We encourage all interested candidates to submit their applications by email to internship@amcham.me no later than June 9, 2018.
We invite students to follow our official pages for more details related to the application process!