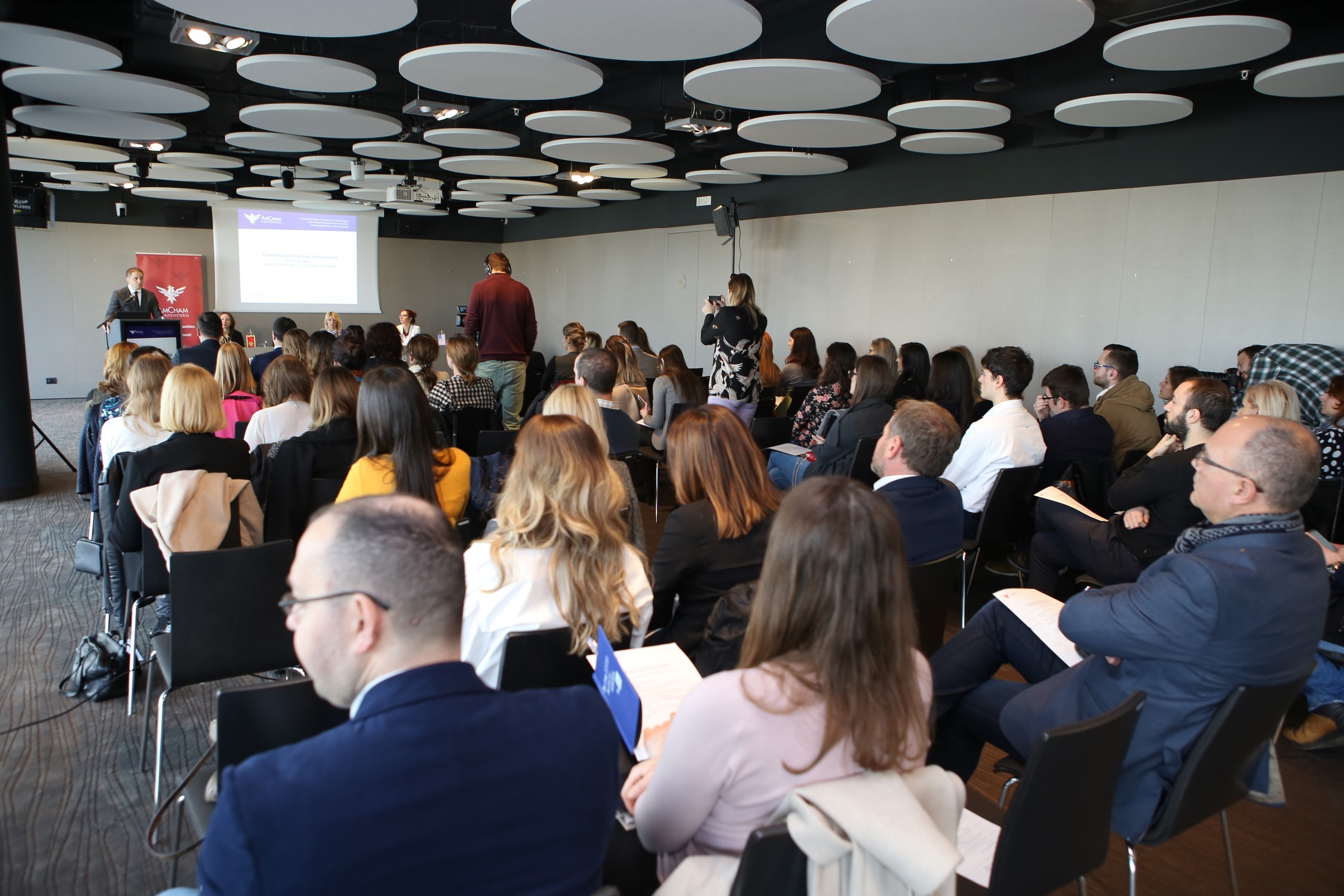 Dual education brings benefits to both students and employers

Podgorica, March 5th – Dual education provides conditions to acquire, improve and develop competencies of the students according to the needs of the labor market, and enables employers to produce qualified workforce according to its own requirements.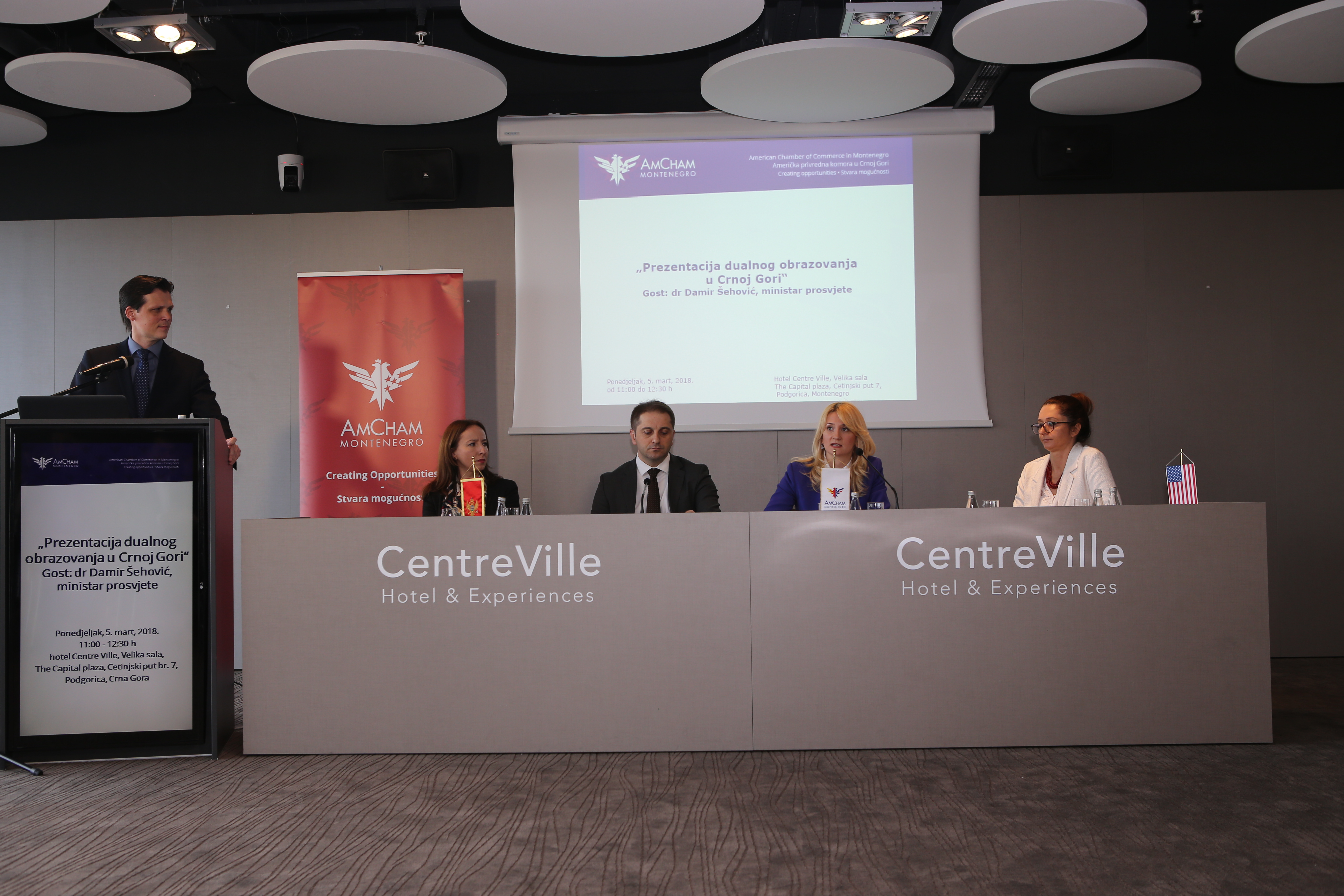 That was announced today at the presentation about dual education in Montenegro, organized by AmCham Montenegro in collaboration with the Ministry of Education.
AmCham President, Katarina Bulatović, reminded that this association has initiated Internship program aimed at students enrolled at Montenegrin universities, which will welcome its 8th generation this year.
"However, now we are going one step further. Thanks to the initiative of the members companies from our Labor relations Committee, who have recognized the importance of introducing dual education in our educational system, we have formed a Working group which focuses on the development of the model of dual education for higher education", noted Bulatović.
She considers dual education to be important because it provides conditions for acquiring, perfecting and developing skills according to the requirements of the labor market and contributes towards better cooperation between the economy and the educational system.
"Thanks to this educational model, the youth is familiar with the "corporative structure" and becomes an integral part of the business community, gaining knowledge and skills which make them employable on the market".
She pointed out that, so far, around 150 students have finished AmCham internship program, and that many of them have continued their careers in the mentoring companies.
"In order to ensure sustainability of the dual education, continual and good cooperation between the business environment, educational institutions and the Ministry of Education, as well as long-term economic development plan which will contribute towards the improvements of the business environment, and represent a significant factor of economic growth and development", said Bulatović.
She invited AmCham members companies to get involved in the process of creating a professional workforce and efficient labor market, which will, according to her, contribute towards more transparent and stimulative work environment, as well as economic stability as a whole.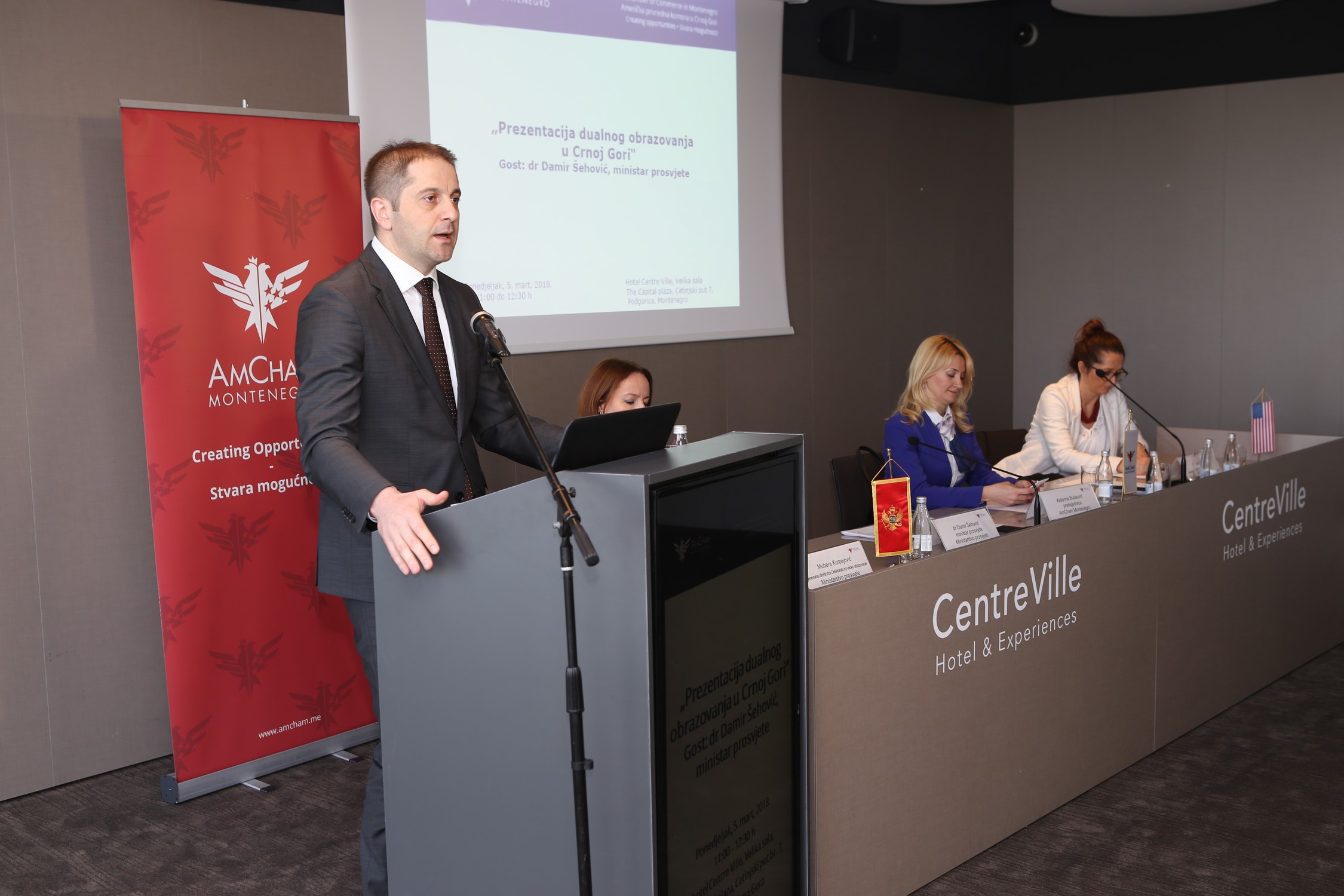 Minister of Education Damir Šehović said that they have, after a decade, since last year, again initiated dual education. As he reminded, the schools are in charge of the theoretical part, while, the practical part is employer's responsibility.
"Since the first year student, of five working days, one day spends at the employer, the 2nd year student spends two days, and 3rd year student spends 3rd days. Dual education is not just a priority for the Ministry of Education, but the state as a whole, because it solves one of the most important structural problems of our economy which is dominantly affecting the labor market", said Šehović.
He considers that there are multiple benefits of the dual education.
"When it comes to students, they acquire theoretical knowledge during their studies, as well as practical which is very important, they are developing an entrepreneurial spirit, something that we lack. Throughout 3-year studies they get solid financial compensation- 1st-year students get 50, 2nd-year students get 70, 3rd-year students get at least 101. After they finish the 3rd year, it is almost certain that they will get employed, because the employer has shaped them according to their own needs", Šehović pointed out.
When it comes to employers, as he said, they participate in the program of dual education, produce qualifies workforce according to their own needs, and have benefited from students who contributed to their businesses by doing their internship.
"After all the activities which the Ministry has undertaken in order to promote dual education in the previous year, we have succeeded to motivate around 100 most well known employers to participate in this model of education, and involved around 300 students from 17 schools in 12 municipalities in the system of dual education, and introduce 14 educational programs, which are mostly deficit",said Šehović.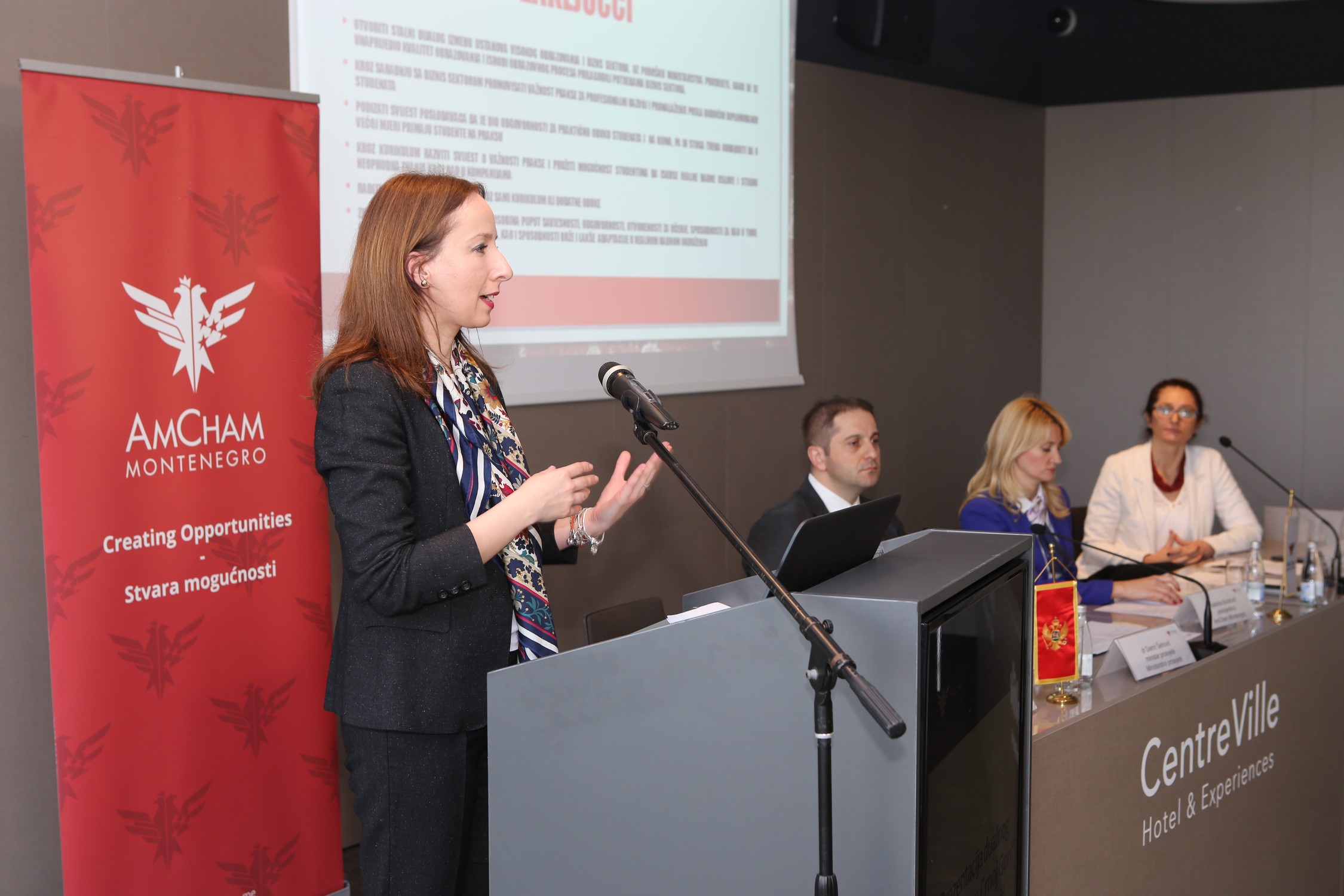 General director of Directorate for higher education in the Ministry of Education, Mubera Kurpejović, informed about the results of the studies conducted by this Ministry, which involves students from years 2009. and 2013. The study has shown that, as she noted, that students who have recently graduated had more practical education.
"The study has shown that 85 percent of the students is satisfied with their studies, however, graduates are unsatisfied with the lack of practical education. The conclusion of the studies is that higher level of practical education is needed", said Kurpejović.
She reminded that the Ministry of Education has regulated that curriculum is consisted of at least 25 percent of practical education, explaining that each new program which is accredited will have to confirm that the practical education is valued in credits.
"What is important and what article 81 is referring to is that all study programs have to have a practical education. This means that in order for a student to get a first bachelor diploma, they ought to get through relevant practical education. After 3 years of applying this model, we will not be needing Vocational training program because we will have graduated students who will have relevant practical knowledge because of which the program was implemented", Kurpejović explained.
The President of AmCham working group and Executive director for operations in Societe Generale Montenegro, Marina Banović, said that one of the activities of the working group was sending questionnaires to the AmCham members.
,, The result of the questionnaire have shown that the companies were able to welcome one to five people on internship and that mainly the duration of the internship would be between three and six months. The greatest interest exists for the economic, IT and the legal profession. 60 percent of the companies are willing to offer financial compensation for this sort of engagement", said Banović.
She said that through dual education, the students gain practical knowledge before they finish school or studies and that their employability is increasing.
"Regarding the companies, they have a clear interest to supports this kind of initiative, through this system they would have excellent access to very good workforce even before they finish their studies", Banović pointed out.