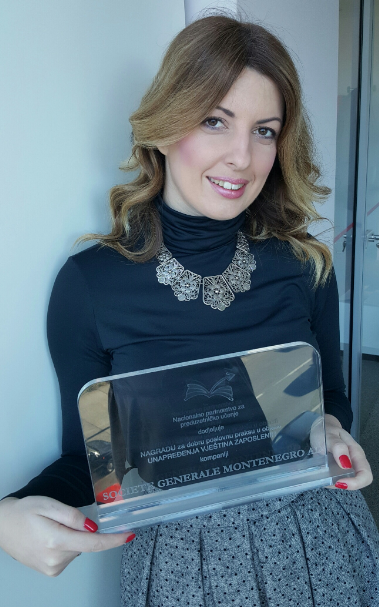 Youth strength for the challenges that the modern era brings – Societe Generale Bank

The development of young people in our bank is one of the strategic roles of HR and the orientation of the whole company. The level of formal education is of course very important in the selection of candidates, but for us, there is another equally important aspect – the desire of young people for further development, their curiosity and proactive approach in examining their own professional limits.
Special focus is put on the so-called "millennium" generation, which now represents a significant share in the structure of staff. Those millenniums who are already in the company are provided with carefully structured development programs such as Future proof banker, exchange program, Young banker Academy and the like. They are given a chance to get out of the framework of their everyday work, upgrade their skills, discover new areas of interest, give their ideas and work with higher level managers, and to acquire the necessary skills that will be their competitive advantage in the future career.
Our bank is very open to young people, which is best illustrated by the fact that in addition to standard model of employment we support also 4 models of practices: ten-month practice through direct cooperation with universities, summer practices upon request of student, participation in the Government internship program, and of course AmCham internship program.
From 2011 we began to actively participate in the AmCham Internship Program and we gave the opportunity to 17 young people to participate in the team of our bank. They had three-month practice period with16 working hours per week and familiarize themselves with jobs in almost all sectors of the bank, but the largest number was in the sectors of Operation, Finance, and Commercial. Three out of 17 got a job in a bank and today contribute to our success.
Here are few statistics in favor of it. In the last six years, 106 young people had the opportunity to gain first knowledge of the corporate world through these models, which is almost more than a third of the current size of the organization, out of whom 35% has been employed in the bank after these programs.
Recognizing the importance of investing in young talented people, and guided by positive experiences through participation in this program.
As part of the world system, we create an environment in which young people can give their best, offering them challenges that will encourage them to express their potential. At the same time, by working with colleagues who possess global expertise, we enable them to set the foundations for career development. It is very important to us that in addition to the acquired experience, they understand what they love and want to do, and learn that they can be the best in that. I believe it is not necessary to give some other reason why practice is very important for a young people, but I also believe that the focus on innovation and ideas that we continuously ask from the young people, excellent working conditions, and many social activities that we offer from bowling through karting, from hiking to parties are quite justifiably positioning our bank very high in terms of popularity among employers.
In today's competitive job market, it is important to acquire basic professional experience as early as possible, and we want to share our time with valuable and talented young people in Montenegro. It is up to them to use their chance in a company which is recognized as a responsible company by clients, local community and employees.
Slađana Đurović – SGM Head of HR department